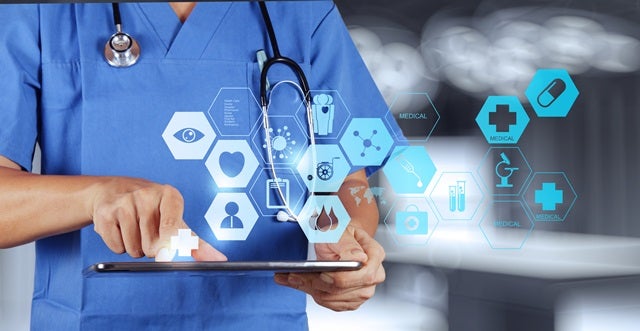 The sudden challenges created by the ongoing COVID-19 are captured effectively to exhibit the long term growth projections in the MRFR report on Digital Healthcare Market. The growth sectors of the Digital Healthcare Market are identified with precision for a better growth perspective.
The 'global digital transformation healthcare market analysis' is a specialized and in-depth study of the healthcare industry, with a scrupulous focus on the global market trend analysis. Market Research Future digs the reality and states that the global digital transformation healthcare market can garner to reach USD 50.15 billion by 2024, at a CAGR of 14.5% during the forecast period of 2019–2024. The study also provides key statistics on the status of the leading market by focusing on key drivers, market players, key trends and opportunities for the future.
Key Drivers & Challenges
The foremost factors driving the growth of the global digital transformation healthcare market are the introduction of technologies such as AI, IoT, big data, and more. The advances in digital technology have equally led to extensive use in several applications that have been driving the digitalization across the healthcare industry, globally. Since past years, digitalization has transformed the healthcare sector to a great extent with new capabilities. Digitalization has now enabled quick and easy access to information of a patient and can be shared immediately from any device in real-time. Such innovation has let the medical professional take prompt decision about the process of surgery for the patient.
At the same time, various factors that are forwarding the digital transformation in healthcare are mounting demand for increased efficiency and success rate of surgeries. In addition, the growing use of smartphones and mobile apps related to healthcare, fast adoption of cloud services and escalating penetration of IoT devices have also contributed significantly to the market's growth.
On the other hand, at present, analytics has become an indispensable part of the healthcare industry. It reduces the manual work for the operators with the help of arranging the records as per the requirement. The healthcare analytics provide insights for patient records, hospital management and costs, and diagnosis. Healthcare analytics also offers financial and administrative data with the information that provide better services, aid patient care, and can lead to improving the existing procedure. These factors have also contributed to the market's growth and are expected to go on rising during the assessment period.
Market Segmentation
The worldwide digital transformation market, as per the study, is segmented by component, organization size, technology, business function, and end-user.
With respect to the component: Hardware, software, and services are the segments.
With respect to organization size: Large enterprises and SMEs are the segments.
With respect to technology: Artificial intelligence (AI), cloud computing, big data & analytics, and internet of things (IoT) are the segments.
With respect to business function: Operational transformation, workforce transformation, Customer transformation, as well as product transformation, are the segments.
More [email protected]
About Market Research Future:
At Market Research Future (MRFR), we enable our customers to unravel the complexity of various industries through our Cooked Research Reports (CRR), Half-Cooked Research Reports (HCRR), Raw Research Reports (3R), Continuous-Feed Research (CFR), and Market Research and Consulting Services.
Contact:
Market Research Future
+1 646 845 9312
Email: [email protected]